Andaman Discoveries Blog
Tuesday, October 7, 2008
North Andaman University – Spreading the Word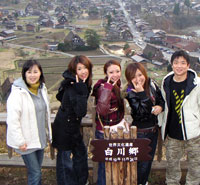 Nahoko (left) with her students in Japan
Over the past two months, Andaman Discoveries has been privileged enough to work with universities from three continents. In September, we welcomed Nahoko Shimizu, a lecturer in tourism studies at Hagoromo International University in Osaka, Japan. Nahoko came to observe our programs, interviewing villagers, government officials, and local conservation activists. Nahoko has kindly offered to help raise Andaman Discoveries' profile in Japan, and possibly bring a study trip to Ban Talae Nok.
As an expert in rural tourism development, Nahoko was very impressed with Ban Talae Nok, observing "Everyone welcomed us with plenty of hospitality. This is a unique situation compared with examples of community-based tourism I've seen in other areas. Ban Talae Nok values CBT highly and takes pride in doing it well."
She went on to note that "the overall coordination balance – tourism management, community participation, and the contribution to the whole society – in Ban Talae Nok is excellent. Each family helps and supports all visitors, even families that aren't acting as hosts."
Comments:
Your blog post is good I am remembering my uni picnic time but I was upset this time in the uni task which I was making by
geography dissertation topics
service and because I am conscious about work that's why I was worried.
Post a Comment
Subscribe to Post Comments [Atom]
<< Home
Subscribe to Posts [Atom]