Andaman Discoveries Blog
Tuesday, October 14, 2008
Special Programs – Celebrate the Holidays in the North Andaman!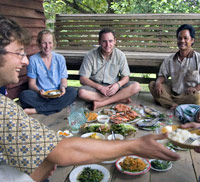 Share in the lives of villagers this holiday season.
Looking to do something different this holiday season? Then come join the villagers of the North Andaman, who invite you experience their traditional culture and diverse eco-systems in an authentic and non-intrusive way. Andaman Discoveries has designed several
customized itineraries
for the holidays designed to give visitors an unforgettable village experience.
Explore diverse, pristine eco-systems; take a traditional long-tail boat through dense mangrove forests; hike through lush rainforests that are alive with the sounds of exotic wildlife; snorkel in clear blue waters teeming with vibrant marine life; or simply soak up the sun on a deserted island all to yourself. Learn about traditional ways of life and contribute to the conservation of this outstanding natural environment.
The villagers that you meet during your stay, including the guides, host families, handicraft cooperatives and our own staff receive fair wages as stipulated by the Community-based Tourism Committee of the village. The majority of the overall price of each trip is invested back into the community, including 20% which is allocated to the Community Fund to ensure that all villagers benefit from tours in their community. The Community Fund is dedicated to projects that serve the betterment of the community and its environment.
Unable to travel this year? Our tsunami handicrafts also make great gifts that give something back to the community! Check out:
http://www.tsunamicrafts.com/
Comments:
Very impressive publication here. Moreover as I see, this question is very actual for many people indeed. Personally I totally
awriter.org
agree with author opinion about this subject and I think that it would be really interesting to create such discussion with other this website visitors. Anyway thanks a lot one more time for the great and informative publication. And I will definitely be waiting for more such nice posts like this one from you. Kind regards, Peter Rickson.
Post a Comment
Subscribe to Post Comments [Atom]
<< Home
Subscribe to Posts [Atom]